As a retired producer who worked at the national level at both CBC News and CTV News I was appalled at the superficial (to say the very least) coverage in English Canada of the shooting at a Quebec City mosque last night , January 29, 2017.
对於容量很小的内容请多加留意,多半是捆绑病毒和木马的资源。
對於視頻文件採用壓縮包形式發佈的,也請看清楚其真實的目的,建議堅決抵制該類下载(經驗告訴我們,這些大都是捆綁了木馬病毒或廣告資料或者是加了密碼的無良人士發佈的)。
如果发现上述问题,请及时向我们
举报
。
动漫花园資源網(下稱本站)只是一個網絡交流平台,所有資源均不是由本站上載或發放。本站以即時上載的方式運作,动漫花园資源網對所有留言的真實性、完整性及立場等,不會負上任何責任。一切內容只屬留言者個人意見,並不代表本網站之立場。用戶不應信賴內容,並應自行判斷內容之真實性。於有疑問的情況下,用戶應立即尋求專業意見。由於是受到「即時留言」運作方式所限制,故不能完全監察所有即時留言,若讀者發現有留言出現問題,請聯絡我們。本站有權拒絕任何人士留言及刪除、保留任何留言。切勿撰寫粗言穢語、誹謗、渲染色情暴力或人身攻擊的言論,敬請自律。本網站保留所有權利。
Processed in 0.002 second(s), 2 queries
So were many people. The news was coming in on Twitter and Facebook, not television and along with the real news (and the fake news) there were complaints that neither CBC nor CTV had any coverage. The viewers were demanding television coverage from both the public CBC and the private CTV.
While Societie Radio Canada and its French language private competition TVA were live and in-depth, the CBC National broadcast on both the main network and News Network  had nothing more than a minute of a phoner voice over. A disgrace for a national public news service.
At 11 pm, Pacific, that's 2 am Eastern, CBC News Network went back to a canned documentary while BBC World devoted much of its newscast to the shooting.
This is the age of instant communications. Mobile phones. Text. E-mail. Twitter. Facebook.
It is obvious that in this age of 24/7/365 communications neither network news service has an emergency plan.
Probably in the view of bean counters and consultants news happens most often when there is a regular measurable audience and a newsroom is fully staffed (or as staffed as much as today's budgets allow) and the new buzzwords like a "Hub" or a "Breaking News Desk" will always respond.
The Hub and Breaking News desks can only respond if there are warm bodies with their bums in chairs actually in the newsrooms.
Maybe the network news bosses should bring an old analog era procedure that actually got (real) breaking news on the air fast. It's called a phone tree.
Back when I was starting in journalism 40 years ago, the days long before Breaking News became nothing more than a marketing gimmick, there were emergency plans and procedures and when the fertilizer hit the fan you learned quickly how those procedures worked. Even if you were a lowly editorial assistant (a job that no longer exists) almost all alone in the newsroom.
These long forgotten procedures were created (I was told at the time) when the Greatest Generation returned from service in the Second World War to begin or resume careers in journalism and they damn well knew what an emergency or breaking news really were.
对於容量很小的内容请多加留意,多半是捆绑病毒和木马的资源。
對於視頻文件採用壓縮包形式發佈的,也請看清楚其真實的目的,建議堅決抵制該類下载(經驗告訴我們,這些大都是捆綁了木馬病毒或廣告資料或者是加了密碼的無良人士發佈的)。
如果发现上述问题,请及时向我们
举报
。
动漫花园資源網(下稱本站)只是一個網絡交流平台,所有資源均不是由本站上載或發放。本站以即時上載的方式運作,动漫花园資源網對所有留言的真實性、完整性及立場等,不會負上任何責任。一切內容只屬留言者個人意見,並不代表本網站之立場。用戶不應信賴內容,並應自行判斷內容之真實性。於有疑問的情況下,用戶應立即尋求專業意見。由於是受到「即時留言」運作方式所限制,故不能完全監察所有即時留言,若讀者發現有留言出現問題,請聯絡我們。本站有權拒絕任何人士留言及刪除、保留任何留言。切勿撰寫粗言穢語、誹謗、渲染色情暴力或人身攻擊的言論,敬請自律。本網站保留所有權利。
Processed in 0.002 second(s), 2 queries
So here's how I learned my trade back then:
On September 28, 1978, it was just after one in the morning at the old National Radio Newsroom on Jarvis Street in Toronto. The evening staff had gone home. There was a writer for the hourlies for western Canada. The late Doug Payne producer of the World at Eight was preparing the show. His writing and producing staff would not be in for a couple of hours. I was the editorial assistant. It was still the days of clattering teletypes in a side room. Nothing had moved on any of the teletypes for an hour. Nothing. Then suddenly the Reuters machine literally went nuts. Normally five bells on an old teletype was a Bulletin. A Flash was seven. This time the machine rang 28 bells. (I saved the carbon copy and counted them later) The new Pope John Paul I was dead. (He had been in office just 33 days).
I was stunned for a few seconds, then ripped the paper and ran over to Doug.
Doug knew what to do. He knew the phone tree.
First I was to call the then senior assignment producer, Bob Dowling.
Second and only after I had called Dowling, who could start getting the foreign desk and reporters mobilized, I was to call the then managing editor Eric Moncur.
Doug and the writer under CBC procedure at the time (not these days) waited for the CP/AP confirmation. They then prepared the network bulletin and after that the last two hourlies to the west.
Doug told me that once I had called the boss, I was to call in all the morning staff for both World at Eight and Hourlies, starting with producers and senior technicians, then writers and junior technicians. Overtime was no problem. The early morning EA didn't answer (I later learned he was spending the night at his girl friends') so I was told to call in the mid-morning EA. Doug then told me to call Frans, the nearby all night restaurant and order breakfast to go for 30 people. As soon as the mid-morning EA got in, he was sent out again in a taxi, with an envelope full of cash to collect the breakfast. (Eggs, bacon and sausage).
I was also fielding calls from the public (including an assistant to the Archbishop) who had direct lines numbers to the newsroom in something called a Rolodex. (In the first round of many budget cuts the overnight switchboard operator had been let go a few weeks earlier)
In Toronto, noise bylaws forbade the Catholic Churches' bells from ringing until 7 a.m. But as the World At Eight went to Atlantic Canada, the listeners could hear LIVE, those bells ringing.
A year later, on November 10, 1979, it was a deadly Saturday night. There were two people in the radio newsroom, myself and the hourly writer. Down the hall a producer for Sunday Morning was putting the last minute touches on a doc that was to air that morning.
It was five minutes to midnight. Five minutes until the switchboard closed. It was then the phones started to ring. There had been some kind of huge explosion in the west part of Toronto. At midnight those calls stopped.
Those calls were enough for me to follow the phone tree procedures and call Bob Dowling. It was soon after that that news staff began calling on direct lines, not just from the west end but even from high rises in downtown Toronto, telling me there were huge flames in the west.
A Canadian Pacific train had derailed in Mississauga at 11:53. So those warning phone calls from the public had come almost instantly. Dowling went through the phone tree, calling in staff and alerting reporters. Then he called back and ordered me, the most junior person and the available warm body to get out to the scene until a national reporter could relieve me. There was a problem, the weekend CBL (local Toronto radio) reporter had taken the staff car and he couldn't be contacted. So  Dowling authorized a technician who should have gone off shift  to drive me on overtime  to the scene in his personal vehicle.
As soon as we got on the Gardiner, we could see the flames reaching 1500 feet into the air; we eventually got to the scene, and (in those days) were waved through the police barricade to a parking lot designated for the media. Even for the TV people who were also arriving this was long before the days of easy live coverage. But there was a quick police briefing within a half hour or so. Soon after the briefing, a national reporter arrived, so the tech and I drove off to find a place to file. In those days that involved taking a phone apart and using alligator clips to send audio from a tape recorder back to the newsroom. Then, the tech and I went to a mall that was an evacuation centre that was already filling up, for interviews. We were back in the newsroom by 5 am, which by that time had all hands on deck.
On August 19 1991, I was a writer at CTV News in this case the Sunday news with Sandie Rinaldo. It was a dull, routine Sunday night with (as far as I remember) until about 11:25 when once again it was Reuters, this time on a green CRT screen tied via some badly written software to a mainframe, that sent the Bulletin that the Communist Party of the Soviet Union had announced that Mikhail Gorbachev was no longer in office. It was the infamous August coup. I called the show producer Jennifer Harwood (now a CBC News manager) and read her the bulletin.
Normally on a Sunday night after the control room told us "tape is good" everyone would go home. The control room called, tape was good, but there was no call back from the producers saying they could go home. Everyone was reading the wires. Control room called back, "What is going on?" So I told them and told them to stand by. The coup meant that there had to be a whole new show with real breaking news put together in now less than half an hour.
At the same time, the CTV phone tree was activated. Calls were made to then CTV VP of News Tim Kotcheff and senior assignment editor Dennis McIntosh. The midnight show to Central Time Zone made it to air (of course) and then after that show was off the air; there was a full network special report aimed mostly at the eastern, Atlantic and Newfoundland stations that had already broadcast the original newscast.
That's how the system was supposed to work. That's how it worked at both public and private networks  when the networks had executives and managers who knew what they were doing.
My sources tell me that at CBC there is minimal staff assigned to the Sunday National (unlike the old days when the Sunday National was a flagship that led the rest of the week.) and even the English Montreal local CBC newscast was a disaster.
This news disaster is the result of decades of budget cuts, staff reductions and misleading viewer analytics that say it isn't worth money investing in weekend coverage. At CTV I suspect that the parent company Bell Media has no real interest in actual news coverage in a demographic low point. CBC lost its way as a public broadcaster years ago, with too many managers and too many managers who know nothing about broadcasting and don't consider news apart from marketing it.
The CBC now has version 5.0 or higher of a so-called digital strategy. The news of the shooting was on Facebook and Twitter, not much even on  CBC.ca (they can't do much if there's one writer and no reporters on scene to feed information) and everyone in English Canada was waiting for CBC to go live with real reporting. It never happened.
In these days when all the media is in deep trouble, there are some things you can't fix.
But one thing can be fixed. Remember the Greatest Generation.
Remember the old Journalism School 101 adage. Never Assume.
Never assume that news is going to break when you're expecting it.
Come up with a real 21st century emergency plan and bring back that old analog frigging phone tree system and when there is real breaking news get it on the air and out on digital and social media whether it's on Wednesday afternoon or Sunday night. Accurate and fast. Accurate is crucial in the age of fake news on social media.
---
Here's what John Doyle of the Globe and Mail says
John Doyle: Lack of TV news coverage of Quebec City shooting a huge broadcast failure
(In the first upload,  I mixed up east and west. Mississauga is west of Toronto. It has been corrected)
The news media, mostly in the United States but also in Canada and the United Kingdom are crying "mea culpa, mea culpa, mea culpa," today over their failure to foresee Donald Trump's victorious campaign for president of the United States.
对於容量很小的内容请多加留意,多半是捆绑病毒和木马的资源。
對於視頻文件採用壓縮包形式發佈的,也請看清楚其真實的目的,建議堅決抵制該類下载(經驗告訴我們,這些大都是捆綁了木馬病毒或廣告資料或者是加了密碼的無良人士發佈的)。
如果发现上述问题,请及时向我们
举报
。
动漫花园資源網(下稱本站)只是一個網絡交流平台,所有資源均不是由本站上載或發放。本站以即時上載的方式運作,动漫花园資源網對所有留言的真實性、完整性及立場等,不會負上任何責任。一切內容只屬留言者個人意見,並不代表本網站之立場。用戶不應信賴內容,並應自行判斷內容之真實性。於有疑問的情況下,用戶應立即尋求專業意見。由於是受到「即時留言」運作方式所限制,故不能完全監察所有即時留言,若讀者發現有留言出現問題,請聯絡我們。本站有權拒絕任何人士留言及刪除、保留任何留言。切勿撰寫粗言穢語、誹謗、渲染色情暴力或人身攻擊的言論,敬請自律。本網站保留所有權利。
Processed in 0.002 second(s), 2 queries
In this case certainly, flogging yourself for your sins is somewhat justified.
Unfortunately, the pundits and analysts are already falling into a trap of their own making—the narrative already is that metropolitan media elites ignored the pain and rage of the mostly white voters in America's heartland.
There already two widely circulated articles by Americans from small towns.
One is by Sarah Smarsh from Kansas in The Guardian: Dangerous idiots: How the liberal media elite failed working-class Americans
In many ways I agree with the media ignoring smaller towns (one unspoken reason is that that these days small town markets are considered too minor by the bean counters to even bother about.)
This is what I said when I posted a link to Smarsh's article on Facebook:
This article about the failings of the American media also applies to Canada, with a media elite ignoring the realities of the lives of people living outside of Ottawa, Toronto, Montreal and Vancouver. On the issues in northwest British Columbia (and I suspect elsewhere) I have to say that since I retired from CBC News in 2010 and came back here to Kitimat, BC my respect for the Ottawa press gallery has gone down by 95%. By that I mean mostly the commentators and columnists?—?for the CBC, Globe, and definitely the National Post who have become experts on the issue of northwest BC, the coast, First Nations and pipelines, who sit in their cubicles and pontificate expertly about things they actually know almost nothing about. Even when reporters came into town and I acted as an unpaid fixer, they stayed for two days, three at most, talked to the usual suspects and then flew out.
Another small town example is Joshua Benton from Louisiana on NiemanLab with The forces that drove this election's media failure are likely to get worse.
Jeff Jarvis, metropolitan elite at the City University of New York puts it this way in A Postmortem for Journalism also writes:
Journalism has failed to listen to, understand, empathize with, and serve many communities—it sees only the mass. I include in that indictment its failure to reflect, respect, and then inform the worldview of the angry, white men—and women—who became the breeding ground for Trumpism.
There's a lot of truth to that, and to the role of click bait, the painful transition to the digital world and the economic collapse of journalism.
But it's just one narrative.
That's because every media post-mortem I've seen so far show's YOU'RE STILL NOT LISTENING.
What was the main thing that Trump supporters said? What was the number one thing that wasn't racism, misogyny, and rage at the collapse of local economies, Islamophobia or parochial America firstism?
The number one thing was "authenticity."
More specifically the Trump supporters say "He tells it like it is," (even if he was actually lying).
I heard Trump supporters say that again and again and again throughout the campaign, "He tells it like it is."
The Trump supporters hate spin.
Everyone, except corporate executives and political operatives hate spin. But spin today is part of the information ecosystem. There's corporate spin, government spin, political spin. We're all sick of the spin.
It was Donald Trump, an ultimate spin master who recognized he could spin himself to the presidency by hating spin.
As journalists we too often have to go along with it because we have no other choice.
So let's put a lot of the blame on what happened squarely where it belongs?—?the message track public relations industry which now employs more people worldwide than journalism does.
Spin. Spin. Spin and more spin. As journalists you're so used to the immediate enemy that you no longer recognize that how dangerous that enemy is.
So let's ask a question. The term "implicit bias" is used a lot today in race relations. What if there's an implicit bias in journalism actually in favour of spin because we've become so used it that it's become second nature?
False balance didn't start with the Trump advocates on cable news. False balance started when journalists accepted (or had to accept because they were overworked) the phony statements that come out every day from the media relations of whatever company or department or politician you're dealing with today. False balance began when news shows felt they had to book smooth talking phony spokespeople (some of them former journalists) to get that side of the story. False balance began when you didn't have the airtime or space to challenge an outrageous statement.
False balance began when you shoot a 30 second clip with a young woman (yes 95% of the time it's a young woman who looks good on camera) who says nothing really about the story you're trying to do but you have include the clip anyway.
It gets worse when message track media relations simply issues an e-mail statement that means nothing that you have to include in your story. You know it's crap, but you use it anyway. The media relations department congratulates themselves on putting out another fire.
The audience at home, whether a well paid elite in a big city or a plant worker in a small town both say the same thing. "That's crap!"
It begins to add up.
In working in a region where there are multiple environmental problems and multiple proposed energy projects the words you hear again and again are "cumulative effect," the cumulative effect of too many environmental stresses or too many industrial projects in one small area.
Just like cutting down one tree doesn't affect the forest, the first example of modern message track spin didn't have any affect. Cut down ten trees and you begin to see gaps. Cut down a thousand trees and the ecosystem is under stress. Clear cut an entire forest and there is nothing left of the ecosystem. A hundred thousand spins, a million spins undermine the system, destroy trust and in the end are a threat to democracy.
We all know it but it's time that it was said. The public relations industry has responsibility not only for the election of Donald Trump but also for Brexit. (Remember how Tony Blair "sexed up" the reasons for the Iraq war?)
It wasn't always that way. Yes there has been PR at least for a century.
When I started out as a journalist 40 years ago, there were PR people but they had a different job. They knew (at least in the days of large news staffs) that the reporters would find out the story anyway. Their job was to put the facts, yes facts, in a corporate context.
If you were dealing with the police or the military, it was often the same. They would go so far, up to a boundary you knew and they knew they couldn't cross. So you sometimes found your way around that boundary. Today most journalists don't have the contacts or the time to recognize there is a boundary.
An example, on my first job on The Sudbury Star, back in 1975, if there was an accident, with a fatality or serious injury at one of the mines or smelters, I would quickly get a call from the PR department giving me the details. In those days they were smart enough to know that everyone in town would know within a couple of hours anyway.
These days in industrial towns the PR people (when they talk at all which is seldom) give a carefully crafted message track email that says little or nothing. Everyone in town knows something happened, but with the facts withheld, the rumours (often wild rumours) accelerate on Facebook. In some places the local PR people don't even have the authorization to issue releases on their own initiative, everything has to be approved by suits in head offices tens of thousands kilometers away.
That's not very smart. But that's the way it is these days.
Then's there the case of no balance, when a company decides not to issue a statement and hope the story might go away.
The story might go away but the public idea that it is all corporate crap doesn't go away. Cumulative effect. Cumulative effect of media relations spin creates a demand for "authenticity" even if it is the phony authenticity of a Donald Trump.
We have to ask how much has journalism's regurgitating of corporate and government spin contributed to the loss of our credibility?
It's likely that more people began to believe fake news, not just because their social media feed is a conformation bias silo but because they've been fed faked up news for years by media relations and carefully crafted message tracks.
If responsible journalists, once they get over the mea culpa of today begin to sit down and really reconsider their role and what can be done under today's economically precarious conditions, getting back to really challenging the message track agenda has to be high on the agenda, no matter how difficult it is or how little money your organization has or how little time they give you.
Giving up false balance spin has to be a priority not just for the off the wall fringes but for every bit of corporate nonsense.
For media relations, especially those former journalists in the spin rooms, it is time that you look in the mirror and realize that you, the public relations people, have become among the greatest threats to democracy and freedom we are facing today.
"Such miserable pirates are too sordid to engage a photographer to make a special series for them; they prefer to rob an already poorly paid class of men-men who have to depend for their living upon the sale of views taken during the short summer months."
Most photographers today believe that the problems of image piracy began with the Internet in the 1990s and the switch over to digital in the 2000s.
That's what I thought too — until this weekend when I was doing research for a book project on the archive site Canadiana.ca.   I serendipitously  came across some old copies of the Canadian Photographic Journal from 1894 and 1895.  If you read about the problems photographers were facing with image pirates and with news organizations that took images without credit 122 years ago, it appears that things haven't changed all that much.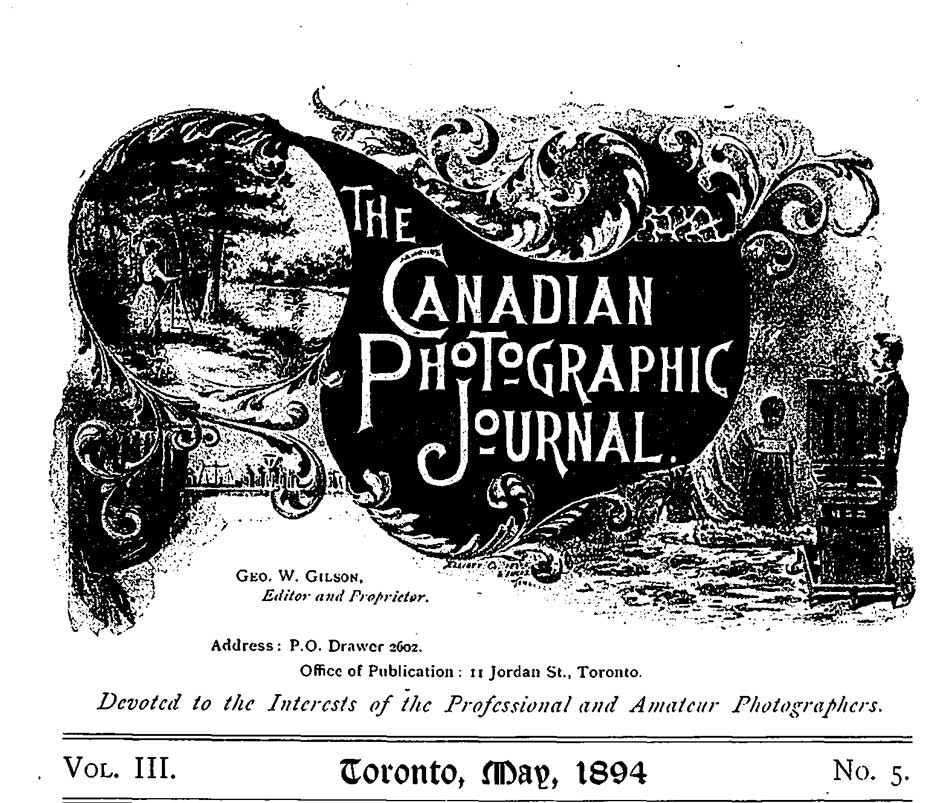 MORE CONCERNING COPYRIGHT
WE have on former occasions tried to impress our readers with the vital importance of registering their copyright in photographs that are likely to prove of more than passing importance, and we published in a former number a concise article upon the method of securing such registration in Canada.
We have since received numerous complaints from subscribers who have been victimized by pirate publishers. One of these firms of pirates began by buying a few photograms of a prominent Canadian city at a cost of about twenty-five cents each and then published them as photo engravings in "Souvenir" form at about ten cents the book.
We do not mean to say the photograms thus collected at so little expense were by any means excellent views, and the reproductions were even worse, but still put upon the market at so low a price-they were sold and must have injured the sale of the original photograms.
We have no battle with publishers of these books so long as they pursue their business in a straightforward manner and give the photographers, whose works they appropriate, adequate remuneration and proper acknowledgment of authorship.
But we have no sympathy with the meanness of those marauding pirates who infest certain cities and rob hardworking photographers of the results of their labors. It is all very well for these people to say they bought and paid for the views they republish, we admit that they did so-but they did not thereby acquire the right to republish those views and sell them in opposition to their original authors.
Such miserable pirates are too sordid to engage a photographer to make a special series for them; they prefer to rob an already poorly paid class of men-men who have to depend for their living upon the sale of views taken during the short summer months.
These same parasitical publishers seem- to be imbued with a natural inborn baseness that prevents them from giving the men they rob credit for being the authors of the original photographs, whereas if they had the decency to publish the names and addresses of the photographers we might consider it in the light of a redeeming act of grace.
How often do we see even in the public press such titles as "Minne-haha Cathedral From a Photograph."
Why are publishers so averse to give credit where credit is due? Is it because they are ashamed to publish the name of their victim, or is it because they fear he might be a gainer of some notoriety if his name was mentioned?
If newspapers are mean enough to take the liberty of appropriating men's work and publishing it, they should not be too mean to advertise him by mentioning bis name and address.
Since there is such a lamentable lack of honorable feeling among a certain class, the only remedy for photographers is registration of copyright and, again, we urge our readers, if they do not wish to, be at the mercy of copyists, to register each of their choice views.
We know that the Canadian Copyright Act is hardly in accordance with the requirements of photographers-the rates being (in their peculiar circumstances) especially high-but still registration is the only way of protecting individual interests.
In Great Britain there has been recently formed an active "Copyright Union" which is virtually under the wing of the Chamber of Commerce.
The active promoters of this union have our most hearty sympathies; they are doing a good work for our British brethren and deserve the undivided support of every photographer in the land. Canada has long been in want of such an active body to protect the interests of photographers.
We believe the time is now ripe for the formation of such a union here, and we believe the best expression of our sympathies with the organizers of the British union will be the formation of a similar body in Canada. We want an amendment to the Copyright Act an amendment that will be an equal gain to photographers and the treasury of Canada.
Individuals cannot secure this, a powerful combined effort can do so.
The active co-operation of all photographers is required to fight for that which is, according to the unwritten code of honor, their individual right.
---
A year later in May 1895, the Canadian Photographic Journal published this letter from New York City.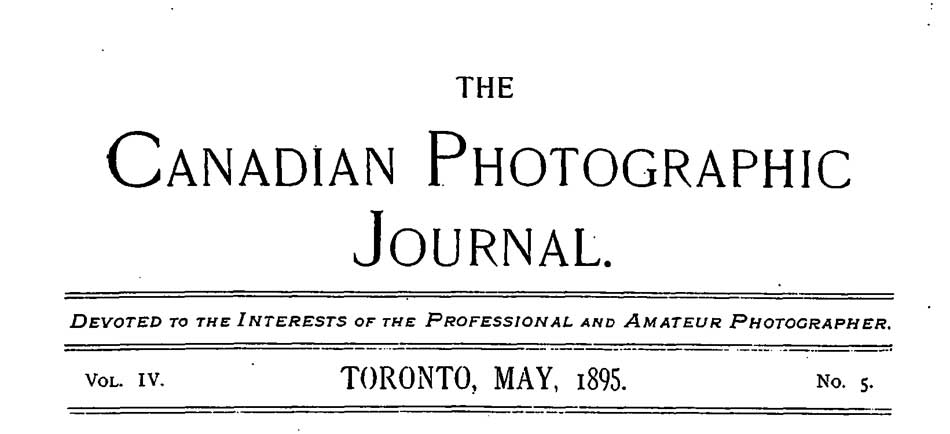 SIR, -At an informal meeting held by a number of representative photographers of this city, March 14, 1895, it was unanimously decided to issue the following prospectus to the prominent members of our profession, submitting the plan proposed therein to their earliest consideration, and requesting their immediate reply to same address, Committee of the proposed Photographers' Copyright League, 13-15 West Twenty-fourth Street.
Art in photography is at last a generally acknowledged factor, and the productions of photographers have become the chief source of supply for the illustrations which fi1l newspapers and periodicals. Even the courts now recognize that fact and extend the protection of the copyright law to all such photographers as are artistic.
During the past ten years a vigorous battle has been waging between a few determined photographers on the one hand, and an indiscriminate host of lithographers and other pirates, on the other. The latter had become so used to appropriating without leave whatever they saw was good and original in photographic publications, giving in return neither remuneration nor even credit, and the results to them were so profitable, that the effort to break them of the pernicious habit was no easy matter.
On the contrary it developed rapidly into a serious and bitterly contested struggle.
Thus far each photographer has done his fighting, sing]e-handed, and generally against large and powerful corporations. In spite of this, however, the result has been almost uniformly a complete victory for the photographer, decision after decision being rendered in his favor by the courts, though often only after years of burdensome and expensive litigation.
In view of these facts and other reasons which follow, we deem it wise and expedient, at this time, to band our best men together, so, that in future a united front will be opposed to infringers of all kinds.
There have been many demands within the past few years for such a union, and we know of no question now rife in the fraternity in which a community of interests would be more desirable, mutual and in every way advantageous to us all.
Our proposition is that an organization (to be known as the Photographers' Copyright League of America) be formed at once, and take upon itself, by means of an advisory committee to be elected annually, the prosecution of  all infringers of the copyright works of any of its members, whenever a proper case for such prosecution is presented by him ; that it defray all expenses of same ; and that in return, so as to make it self-supporting, a fair percentage of all recoveries so obtained, be turned into the treasury.
---
Notes
This entry cross posted from my photography blog.
The nineteenth century definition of photogram is obviously different from today's "image made without camera".  From the context it appears to refer to souvenir postcards.
In the nineteenth century, Canadians were encouraged to register copyright materials with the Department of Agriculture. Today, under the Berne Convention, Canadians don't have to register, but can if they wish with the copyright office. However, unlike the United States, there is no requirement to file a copy of the work.
An online search has found no references to the Photographers' Copyright League of America. It would be interesting to find out what happened to the organization.
The original copies of the Canadian Photographic Journal for May 1894 and May 1895 are available online. Full access to the Canadiana.ca archive costs $10 Cdn a month.
One has to note that despite the fact that magazine masthead shows a woman photographer with a camera on a tripod, the copy is somewhat sexist, referring to photographers as "men" and a "fraternity.."
And now a word from our sponsor……the latest gear for May 1895 (ad in the Canadian Photographic Journal)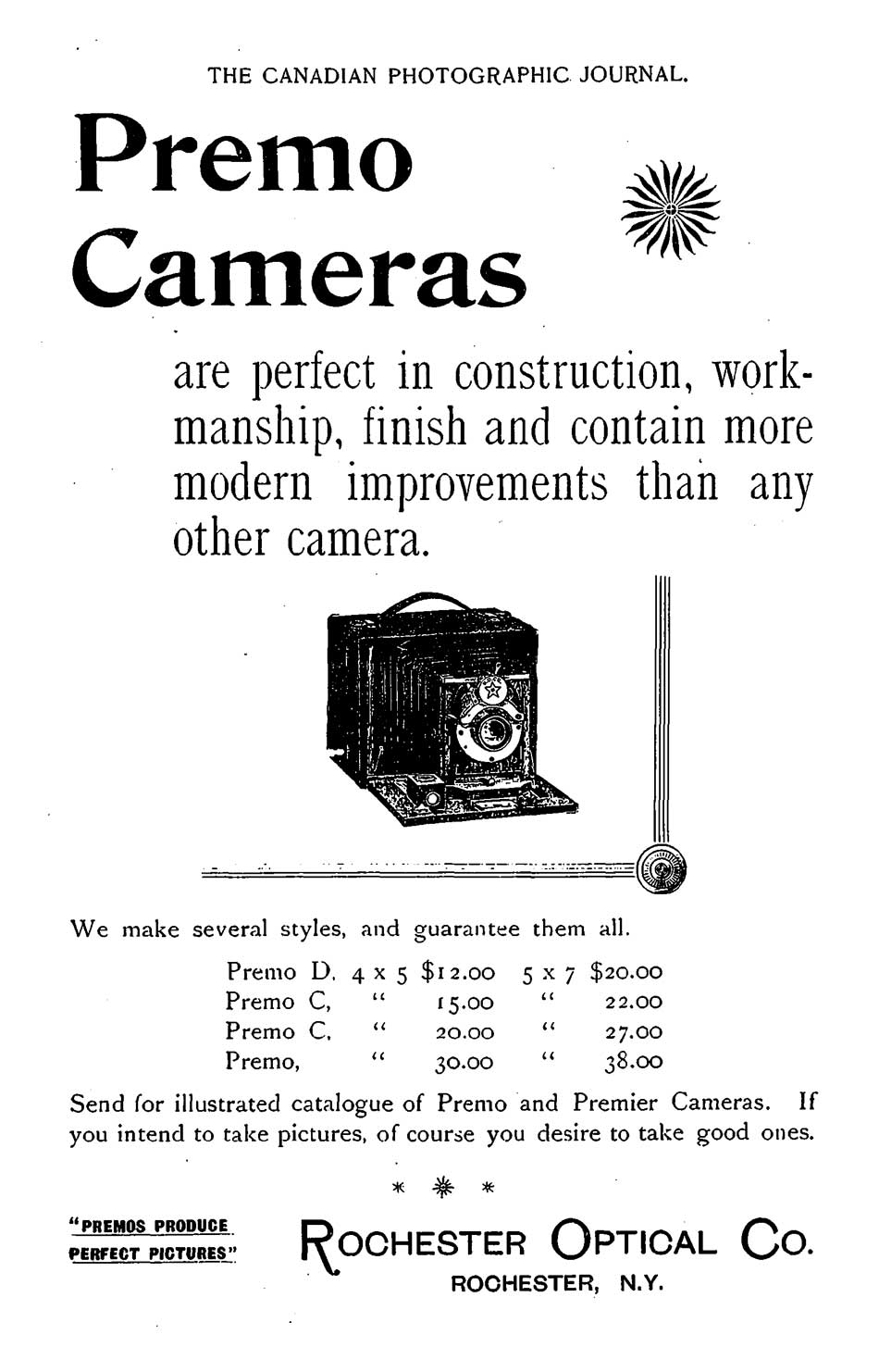 This blog has not been active since 2012 for two reasons:
1)I was concentrating my efforts on my Northwest Coast Energy News site.
2)This blog was started when it looked as if there was a possible long term future for journalism and news coverage. As of February 22, 2016, with more closing of news organizations, continuing corporate mismanagement and seemingly never-ending layoffs, the future looks bleaker than ever.
I am currently working on a related book project and within the coming weeks, I will resume posting related information and reporting on this site tied to the to be announced book project.
Robin
(Cross posted from my Northwest Coast Energy News site)
Kitimat, BC and New York City had one thing in common this week, the misuse and use of social media, Twitter and Facebook, that spread both accurate warnings and dangerous misinformation about an impending disaster. In the case of New York and the surrounding area, it was Superstorm Sandy that caused widespread devastation. For Kitimat it was the tsunami warning after the 7.7 earthquake off Haida Gwaii and no damage but a lot of worry for residents.
New York has a population of millions, it is the media centre for the United States, and much of the U.S. Northeast coast is still recovering from the horrendous damage from Superstorm Sandy.
Kitimat has a population of about 8,000 and my home town is off the media radar except when the Enbridge Northern Gateway pipeline issue pops up on the national assignment desks. If the October 27, 2012 tsunami from the Haida Gwaii earthquake did come up Douglas Channel to Kitimat harbour, it was so minimal that any water rise was scarcely noticed.
In one way New York (the state and the city) plus New Jersey and other states were ahead of Kitimat. In the US, there were numerous official sources on Twitter and Facebook, as well as those ubiquitous live TV news conferences with New York Mayor Michael Bloomberg or various state governors.
On October 27, neither Kitimat nor the nearby town of Terrace had any official emergency outlets on social media. In Kitimat, that may change as early as this Monday when District Council considers what happened last Saturday night.
It has been documented that there was no official response from Emergency Management British Columbia (still largely known under its former name Provincial Emergency Program) until an hour after the first earthquake report from the US Geological Survey. Only sometime later did BC's provincial emergency officials hold a short conference call with reporters. (At the time the BC Liberals were holding a policy convention at Whistler. After the conference call, TV reporters at the convention in Whistler were doing live reports with taped clips of Attorney General Shirley Bond. It should have been easy for Bond and other senior government officials, including Premier Christy Clark–who is plummeting the polls– to hold a live news conference just as US state governors and mayors did later in the week when it came to Superstorm Sandy)
So in that hour of silence from the BC government, one question that has to be raised is: Were the tsunami warnings so completely uncoordinated–at least as far as the public is concerned– that that was one cause of the misinformation and inaccurate information on Twitter and Facebook? Or did confusing information from authorities simply compound and amplify the social media misinformation that was already spreading across British Columbia and around the world?
Here in the northwest, the two area fire chiefs Trent Bossence of Kitimat and John Klie of Terrace have said after the quake that landline phones and some cell phones were out, in some areas up to an hour after the first shock. Klie told CFTK's Tyler Noble on Open Connection that after the landline phones came back up the Terrace fire department was flooded with calls from people "who wanted it now." The ability of firefighters to get information was then delayed "because so many people were trying to get through."
Kitimat has the advantage of being a small town. Emergency services already had scheduled a volunteer recruiting session last Monday night (October 29) for Emergency Social Services–the folks who run, coordinate and work in reception centres during an emergency–so it was easy to turn that meeting into a earthquake/tsunami warning post mortem. (Imagine that happening in New York?)
The most important issue on Saturday night was the false information on both Facebook and Twitter that the Kildala neighbourhood was being evacuated due to the tsunami warning. Other false information on social media indicated that the giant Bechtel work camp at the Rio Tinto Alcan Kitimat Modernization Project was also being evacuated.
As Kitimat's Emergency Plan Coordinator Bob McLeod told the earthquake post mortem about the information on Facebook and Twitter: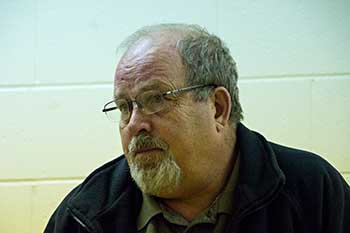 "Your aim is to be saving people, and you're not saving people. There was one case where someone was going around banging on doors in Kildala, telling them to get out. I think it was over when he was in the lockup that night. But this is the type of foolishness that goes on. You have people going on Facebook saying 'Alcan's been evacuated. they're evacuating Kildala.' I am going to be generous and say it is misinformation… It was a blatant lie. And that does not help."
(For those outside Kitimat you can check the town on Google maps) As seen on this screen grab, Kildala is a low lying part of town. The area north of  Highway 37 is higher on a hill. Closer to the ocean at Douglas Channel are the Bechtel/RTA Kitimat Modernization Project work camps.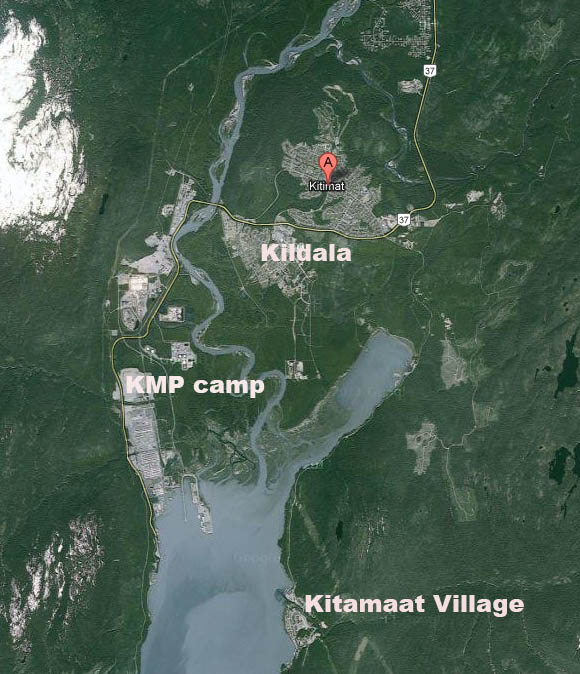 Walter McFarlane of the Kitimat Daily recounted his experiences at the post mortem. (We were both at Haisla dinner at Kitamaat Village when the quake struck. See my earlier story here and McFarlane's Kitimat Daily story here).
After driving from the village to the town, McFarlane told the meeting that he stopped at the town viewpoint where "people were telling me they had already been evacuated out of the Kildala neighbourhood, so my first stop after that was the fire department." The fire hall is about a couple of blocks from the viewpoint, so it was easy to get accurate information from the fire department.
McFarlane continued, "I found the night of the earthquake that no information is just as bad as wrong information. People were calling me on my cell saying why does the Kitimat Daily say we have to evacuate." That is because the Daily republished a warning from the Pacific Tsunami Warning Centre that "said tsunami warning, evacuation for the north coast. People were saying we're on the north coast, we got to go."
I was about fifteen to twenty minutes behind McFarlane in reaching town. (I did not leave Kitamaat Village until after we heard the first tsunami warning.)  As soon as I got to back in cell  range, my cell phone started to beep with saved messages from my TV and radio news clients calling for information. When I got to my home office, my landline was still dead and would be for about another twenty minutes. The only source of information at that point was Google News, Facebook and Twitter.
I saw the initial, and it turns out general, warning from the Pacific Tsunami Warning Center. Soon I was also getting what I hoped was more specific information  on my marine radio from the Canadian Coast Guard Prince Rupert communications station.
But that, too was somewhat confusing. That Coast Guard advisory mentioned various zones, for example, Zone A and Zone B, but there was little specific context and that point I had no idea what Zone A meant. Prince Rupert Coast Guard Radio then went on to say evacuate low lying coastal areas. (transcript below)
With that confusion, and mindful of "when in doubt, leave it out," I did not mention the zone system in any information I posted on Facebook and Twitter that night. I only retweeted official information or tweets from reporters I knew and trusted (and I did not see any tweeted official information from the province with a link to the page