As a retired producer who worked at the national level at both CBC News and CTV News I was appalled at the superficial (to say the very least) coverage in English Canada of the shooting at a Quebec City mosque last night , January 29, 2017.
灏嶆柤瀹归噺寰堝皬鐨勫収瀹硅珛澶氬姞鐣欐剰锛屽鍗婃槸鎹嗙秮鐥呮瘨鍜屾湪棣殑璩囨簮銆
灏嶆柤瑕栭牷鏂囦欢鎺$敤澹撶府鍖呭舰寮忕櫦浣堢殑锛屼篃璜嬬湅娓呮鍏剁湡瀵︾殑鐩殑锛屽缓璀板爡姹烘姷鍒惰┎椤炰笅杓讹紙缍撻鍛婅ù鎴戝戯紝閫欎簺澶ч兘鏄崋缍佷簡鏈ㄩΜ鐥呮瘨鎴栧唬鍛婅硣鏂欐垨鑰呮槸鍔犱簡瀵嗙⒓鐨勭劇鑹汉澹櫦浣堢殑锛夈
濡傛灉鐧肩従涓婅堪鍟忛锛岃珛鍙婃檪鍚戞垜鍊
鑸夊牨
銆
鍕曟极鑺卞湌璩囨簮缍(涓嬬ū链珯)鍙槸涓赌鍊嬬恫绲′氦娴佸钩鍙帮紝鎵赌链夎硣婧愬潎涓嶆槸鐢辨湰绔欎笂杓夋垨鐧兼斁銆傛湰绔欎互鍗虫檪涓婅级鐨勬柟寮忛亱浣滐紝鍕曟极鑺卞湌璩囨簮缍插皪鎵赌链夌暀瑷赌鐨勭湡瀵︽赌с赌佸畬鏁存赌у强绔嬪牬绛夛紝涓嶆渻璨犱笂浠讳綍璨换銆备竴鍒囧収瀹瑰彧灞暀瑷赌钥呭赌嬩汉鎰忚锛屼甫涓崭唬琛ㄦ湰缍茬珯涔嬬珛鍫淬赌傜敤鎴朵笉镍変俊璩村収瀹癸紝涓︽噳镊鍒ゆ柗鍏у涔嬬湡瀵︽赌с赌傛柤链夌枒鍟忕殑鎯呮硜涓嬶紝鐢ㄦ埗镍夌珛鍗冲皨姹傚皥妤剰瑕嬨赌傜敱鏂兼槸鍙楀埌銆屽嵆鏅傜暀瑷赌銆嶉亱浣沧柟寮忔墍闄愬埗锛屾晠涓嶈兘瀹屽叏鐩e疗鎵赌链夊嵆鏅傜暀瑷赌锛岃嫢璁赌钥呯櫦鐝炬湁鐣欒█鍑虹従鍟忛锛岃珛鑱怠鎴戝赌戙赌傛湰绔欐湁娆婃嫆绲曚换浣曚汉澹暀瑷赌鍙婂埅闄ゃ赌佷繚鐣欎换浣旷暀瑷赌銆傚垏鍕挎挵瀵矖瑷赌绌㈣獮銆佽璎椼赌佹覆鏌撹壊鎯呮毚鍔涙垨浜鸿韩鏀绘搳鐨勮█璜栵紝鏁珛镊緥銆傛湰缍茬珯淇濈暀鎵赌链夋瑠鍒┿赌
Processed in 0.002 second(s), 2 queries
So were many people. The news was coming in on Twitter and Facebook, not television and along with the real news (and the fake news) there were complaints that neither CBC nor CTV had any coverage. The viewers were demanding television coverage from both the public CBC and the private CTV.
While Societie Radio Canada and its French language private competition TVA were live and in-depth, the CBC National broadcast on both the main network and News Network  had nothing more than a minute of a phoner voice over. A disgrace for a national public news service.
At 11 pm, Pacific, that's 2 am Eastern, CBC News Network went back to a canned documentary while BBC World devoted much of its newscast to the shooting.
This is the age of instant communications. Mobile phones. Text. E-mail. Twitter. Facebook.
It is obvious that in this age of 24/7/365 communications neither network news service has an emergency plan.
Probably in the view of bean counters and consultants news happens most often when there is a regular measurable audience and a newsroom is fully staffed (or as staffed as much as today's budgets allow) and the new buzzwords like a "Hub" or a "Breaking News Desk" will always respond.
The Hub and Breaking News desks can only respond if there are warm bodies with their bums in chairs actually in the newsrooms.
Maybe the network news bosses should bring an old analog era procedure that actually got (real) breaking news on the air fast. It's called a phone tree.
Back when I was starting in journalism 40 years ago, the days long before Breaking News became nothing more than a marketing gimmick, there were emergency plans and procedures and when the fertilizer hit the fan you learned quickly how those procedures worked. Even if you were a lowly editorial assistant (a job that no longer exists) almost all alone in the newsroom.
These long forgotten procedures were created (I was told at the time) when the Greatest Generation returned from service in the Second World War to begin or resume careers in journalism and they damn well knew what an emergency or breaking news really were.
So here's how I learned my trade back then:
On September 28, 1978, it was just after one in the morning at the old National Radio Newsroom on Jarvis Street in Toronto. The evening staff had gone home. There was a writer for the hourlies for western Canada. The late Doug Payne producer of the World at Eight was preparing the show. His writing and producing staff would not be in for a couple of hours. I was the editorial assistant. It was still the days of clattering teletypes in a side room. Nothing had moved on any of the teletypes for an hour. Nothing. Then suddenly the Reuters machine literally went nuts. Normally five bells on an old teletype was a Bulletin. A Flash was seven. This time the machine rang 28 bells. (I saved the carbon copy and counted them later) The new Pope John Paul I was dead. (He had been in office just 33 days).
I was stunned for a few seconds, then ripped the paper and ran over to Doug.
Doug knew what to do. He knew the phone tree.
First I was to call the then senior assignment producer, Bob Dowling.
Second and only after I had called Dowling, who could start getting the foreign desk and reporters mobilized, I was to call the then managing editor Eric Moncur.
Doug and the writer under CBC procedure at the time (not these days) waited for the CP/AP confirmation. They then prepared the network bulletin and after that the last two hourlies to the west.
Doug told me that once I had called the boss, I was to call in all the morning staff for both World at Eight and Hourlies, starting with producers and senior technicians, then writers and junior technicians. Overtime was no problem. The early morning EA didn't answer (I later learned he was spending the night at his girl friends') so I was told to call in the mid-morning EA. Doug then told me to call Frans, the nearby all night restaurant and order breakfast to go for 30 people. As soon as the mid-morning EA got in, he was sent out again in a taxi, with an envelope full of cash to collect the breakfast. (Eggs, bacon and sausage).
I was also fielding calls from the public (including an assistant to the Archbishop) who had direct lines numbers to the newsroom in something called a Rolodex. (In the first round of many budget cuts the overnight switchboard operator had been let go a few weeks earlier)
In Toronto, noise bylaws forbade the Catholic Churches' bells from ringing until 7 a.m. But as the World At Eight went to Atlantic Canada, the listeners could hear LIVE, those bells ringing.
A year later, on November 10, 1979, it was a deadly Saturday night. There were two people in the radio newsroom, myself and the hourly writer. Down the hall a producer for Sunday Morning was putting the last minute touches on a doc that was to air that morning.
It was five minutes to midnight. Five minutes until the switchboard closed. It was then the phones started to ring. There had been some kind of huge explosion in the west part of Toronto. At midnight those calls stopped.
Those calls were enough for me to follow the phone tree procedures and call Bob Dowling. It was soon after that that news staff began calling on direct lines, not just from the west end but even from high rises in downtown Toronto, telling me there were huge flames in the west.
A Canadian Pacific train had derailed in Mississauga at 11:53. So those warning phone calls from the public had come almost instantly. Dowling went through the phone tree, calling in staff and alerting reporters. Then he called back and ordered me, the most junior person and the available warm body to get out to the scene until a national reporter could relieve me. There was a problem, the weekend CBL (local Toronto radio) reporter had taken the staff car and he couldn't be contacted. So  Dowling authorized a technician who should have gone off shift  to drive me on overtime  to the scene in his personal vehicle.
As soon as we got on the Gardiner, we could see the flames reaching 1500 feet into the air; we eventually got to the scene, and (in those days) were waved through the police barricade to a parking lot designated for the media. Even for the TV people who were also arriving this was long before the days of easy live coverage. But there was a quick police briefing within a half hour or so. Soon after the briefing, a national reporter arrived, so the tech and I drove off to find a place to file. In those days that involved taking a phone apart and using alligator clips to send audio from a tape recorder back to the newsroom. Then, the tech and I went to a mall that was an evacuation centre that was already filling up, for interviews. We were back in the newsroom by 5 am, which by that time had all hands on deck.
On August 19 1991, I was a writer at CTV News in this case the Sunday news with Sandie Rinaldo. It was a dull, routine Sunday night with (as far as I remember) until about 11:25 when once again it was Reuters, this time on a green CRT screen tied via some badly written software to a mainframe, that sent the Bulletin that the Communist Party of the Soviet Union had announced that Mikhail Gorbachev was no longer in office. It was the infamous August coup. I called the show producer Jennifer Harwood (now a CBC News manager) and read her the bulletin.
Normally on a Sunday night after the control room told us "tape is good" everyone would go home. The control room called, tape was good, but there was no call back from the producers saying they could go home. Everyone was reading the wires. Control room called back, "What is going on?" So I told them and told them to stand by. The coup meant that there had to be a whole new show with real breaking news put together in now less than half an hour.
At the same time, the CTV phone tree was activated. Calls were made to then CTV VP of News Tim Kotcheff and senior assignment editor Dennis McIntosh. The midnight show to Central Time Zone made it to air (of course) and then after that show was off the air; there was a full network special report aimed mostly at the eastern, Atlantic and Newfoundland stations that had already broadcast the original newscast.
That's how the system was supposed to work. That's how it worked at both public and private networks  when the networks had executives and managers who knew what they were doing.
My sources tell me that at CBC there is minimal staff assigned to the Sunday National (unlike the old days when the Sunday National was a flagship that led the rest of the week.) and even the English Montreal local CBC newscast was a disaster.
This news disaster is the result of decades of budget cuts, staff reductions and misleading viewer analytics that say it isn't worth money investing in weekend coverage. At CTV I suspect that the parent company Bell Media has no real interest in actual news coverage in a demographic low point. CBC lost its way as a public broadcaster years ago, with too many managers and too many managers who know nothing about broadcasting and don't consider news apart from marketing it.
The CBC now has version 5.0 or higher of a so-called digital strategy. The news of the shooting was on Facebook and Twitter, not much even on  CBC.ca (they can't do much if there's one writer and no reporters on scene to feed information) and everyone in English Canada was waiting for CBC to go live with real reporting. It never happened.
In these days when all the media is in deep trouble, there are some things you can't fix.
But one thing can be fixed. Remember the Greatest Generation.
Remember the old Journalism School 101 adage. Never Assume.
Never assume that news is going to break when you're expecting it.
Come up with a real 21st century emergency plan and bring back that old analog frigging phone tree system and when there is real breaking news get it on the air and out on digital and social media whether it's on Wednesday afternoon or Sunday night. Accurate and fast. Accurate is crucial in the age of fake news on social media.
---
Here's what John Doyle of the Globe and Mail says
John Doyle: Lack of TV news coverage of Quebec City shooting a huge broadcast failure
(In the first upload,  I mixed up east and west. Mississauga is west of Toronto. It has been corrected)
The news media, mostly in the United States but also in Canada and the United Kingdom are crying "mea culpa, mea culpa, mea culpa," today over their failure to foresee Donald Trump's victorious campaign for president of the United States.
In this case certainly, flogging yourself for your sins is somewhat justified.
Unfortunately, the pundits and analysts are already falling into a trap of their own making—the narrative already is that metropolitan media elites ignored the pain and rage of the mostly white voters in America's heartland.
There already two widely circulated articles by Americans from small towns.
One is by Sarah Smarsh from Kansas in The Guardian: Dangerous idiots: How the liberal media elite failed working-class Americans
In many ways I agree with the media ignoring smaller towns (one unspoken reason is that that these days small town markets are considered too minor by the bean counters to even bother about.)
This is what I said when I posted a link to Smarsh's article on Facebook:
This article about the failings of the American media also applies to Canada, with a media elite ignoring the realities of the lives of people living outside of Ottawa, Toronto, Montreal and Vancouver. On the issues in northwest British Columbia (and I suspect elsewhere) I have to say that since I retired from CBC News in 2010 and came back here to Kitimat, BC my respect for the Ottawa press gallery has gone down by 95%. By that I mean mostly the commentators and columnists?—?for the CBC, Globe, and definitely the National Post who have become experts on the issue of northwest BC, the coast, First Nations and pipelines, who sit in their cubicles and pontificate expertly about things they actually know almost nothing about. Even when reporters came into town and I acted as an unpaid fixer, they stayed for two days, three at most, talked to the usual suspects and then flew out.
Another small town example is Joshua Benton from Louisiana on NiemanLab with The forces that drove this election's media failure are likely to get worse.
Jeff Jarvis, metropolitan elite at the City University of New York puts it this way in A Postmortem for Journalism also writes:
Journalism has failed to listen to, understand, empathize with, and serve many communities—it sees only the mass. I include in that indictment its failure to reflect, respect, and then inform the worldview of the angry, white men—and women—who became the breeding ground for Trumpism.
There's a lot of truth to that, and to the role of click bait, the painful transition to the digital world and the economic collapse of journalism.
But it's just one narrative.
That's because every media post-mortem I've seen so far show's YOU'RE STILL NOT LISTENING.
What was the main thing that Trump supporters said? What was the number one thing that wasn't racism, misogyny, and rage at the collapse of local economies, Islamophobia or parochial America firstism?
The number one thing was "authenticity."
More specifically the Trump supporters say "He tells it like it is," (even if he was actually lying).
I heard Trump supporters say that again and again and again throughout the campaign, "He tells it like it is."
The Trump supporters hate spin.
Everyone, except corporate executives and political operatives hate spin. But spin today is part of the information ecosystem. There's corporate spin, government spin, political spin. We're all sick of the spin.
It was Donald Trump, an ultimate spin master who recognized he could spin himself to the presidency by hating spin.
As journalists we too often have to go along with it because we have no other choice.
So let's put a lot of the blame on what happened squarely where it belongs?—?the message track public relations industry which now employs more people worldwide than journalism does.
Spin. Spin. Spin and more spin. As journalists you're so used to the immediate enemy that you no longer recognize that how dangerous that enemy is.
So let's ask a question. The term "implicit bias" is used a lot today in race relations. What if there's an implicit bias in journalism actually in favour of spin because we've become so used it that it's become second nature?
False balance didn't start with the Trump advocates on cable news. False balance started when journalists accepted (or had to accept because they were overworked) the phony statements that come out every day from the media relations of whatever company or department or politician you're dealing with today. False balance began when news shows felt they had to book smooth talking phony spokespeople (some of them former journalists) to get that side of the story. False balance began when you didn't have the airtime or space to challenge an outrageous statement.
False balance began when you shoot a 30 second clip with a young woman (yes 95% of the time it's a young woman who looks good on camera) who says nothing really about the story you're trying to do but you have include the clip anyway.
It gets worse when message track media relations simply issues an e-mail statement that means nothing that you have to include in your story. You know it's crap, but you use it anyway. The media relations department congratulates themselves on putting out another fire.
The audience at home, whether a well paid elite in a big city or a plant worker in a small town both say the same thing. "That's crap!"
It begins to add up.
In working in a region where there are multiple environmental problems and multiple proposed energy projects the words you hear again and again are "cumulative effect," the cumulative effect of too many environmental stresses or too many industrial projects in one small area.
Just like cutting down one tree doesn't affect the forest, the first example of modern message track spin didn't have any affect. Cut down ten trees and you begin to see gaps. Cut down a thousand trees and the ecosystem is under stress. Clear cut an entire forest and there is nothing left of the ecosystem. A hundred thousand spins, a million spins undermine the system, destroy trust and in the end are a threat to democracy.
We all know it but it's time that it was said. The public relations industry has responsibility not only for the election of Donald Trump but also for Brexit. (Remember how Tony Blair "sexed up" the reasons for the Iraq war?)
It wasn't always that way. Yes there has been PR at least for a century.
When I started out as a journalist 40 years ago, there were PR people but they had a different job. They knew (at least in the days of large news staffs) that the reporters would find out the story anyway. Their job was to put the facts, yes facts, in a corporate context.
If you were dealing with the police or the military, it was often the same. They would go so far, up to a boundary you knew and they knew they couldn't cross. So you sometimes found your way around that boundary. Today most journalists don't have the contacts or the time to recognize there is a boundary.
An example, on my first job on The Sudbury Star, back in 1975, if there was an accident, with a fatality or serious injury at one of the mines or smelters, I would quickly get a call from the PR department giving me the details. In those days they were smart enough to know that everyone in town would know within a couple of hours anyway.
These days in industrial towns the PR people (when they talk at all which is seldom) give a carefully crafted message track email that says little or nothing. Everyone in town knows something happened, but with the facts withheld, the rumours (often wild rumours) accelerate on Facebook. In some places the local PR people don't even have the authorization to issue releases on their own initiative, everything has to be approved by suits in head offices tens of thousands kilometers away.
That's not very smart. But that's the way it is these days.
Then's there the case of no balance, when a company decides not to issue a statement and hope the story might go away.
The story might go away but the public idea that it is all corporate crap doesn't go away. Cumulative effect. Cumulative effect of media relations spin creates a demand for "authenticity" even if it is the phony authenticity of a Donald Trump.
We have to ask how much has journalism's regurgitating of corporate and government spin contributed to the loss of our credibility?
It's likely that more people began to believe fake news, not just because their social media feed is a conformation bias silo but because they've been fed faked up news for years by media relations and carefully crafted message tracks.
If responsible journalists, once they get over the mea culpa of today begin to sit down and really reconsider their role and what can be done under today's economically precarious conditions, getting back to really challenging the message track agenda has to be high on the agenda, no matter how difficult it is or how little money your organization has or how little time they give you.
Giving up false balance spin has to be a priority not just for the off the wall fringes but for every bit of corporate nonsense.
For media relations, especially those former journalists in the spin rooms, it is time that you look in the mirror and realize that you, the public relations people, have become among the greatest threats to democracy and freedom we are facing today.
(Cross posted from my Northwest Coast Energy News site)
Kitimat, BC and New York City had one thing in common this week, the misuse and use of social media, Twitter and Facebook, that spread both accurate warnings and dangerous misinformation about an impending disaster. In the case of New York and the surrounding area, it was Superstorm Sandy that caused widespread devastation. For Kitimat it was the tsunami warning after the 7.7 earthquake off Haida Gwaii and no damage but a lot of worry for residents.
New York has a population of millions, it is the media centre for the United States, and much of the U.S. Northeast coast is still recovering from the horrendous damage from Superstorm Sandy.
Kitimat has a population of about 8,000 and my home town is off the media radar except when the Enbridge Northern Gateway pipeline issue pops up on the national assignment desks. If the October 27, 2012 tsunami from the Haida Gwaii earthquake did come up Douglas Channel to Kitimat harbour, it was so minimal that any water rise was scarcely noticed.
In one way New York (the state and the city) plus New Jersey and other states were ahead of Kitimat. In the US, there were numerous official sources on Twitter and Facebook, as well as those ubiquitous live TV news conferences with New York Mayor Michael Bloomberg or various state governors.
On October 27, neither Kitimat nor the nearby town of Terrace had any official emergency outlets on social media. In Kitimat, that may change as early as this Monday when District Council considers what happened last Saturday night.
It has been documented that there was no official response from Emergency Management British Columbia (still largely known under its former name Provincial Emergency Program) until an hour after the first earthquake report from the US Geological Survey. Only sometime later did BC's provincial emergency officials hold a short conference call with reporters. (At the time the BC Liberals were holding a policy convention at Whistler. After the conference call, TV reporters at the convention in Whistler were doing live reports with taped clips of Attorney General Shirley Bond. It should have been easy for Bond and other senior government officials, including Premier Christy Clark–who is plummeting the polls– to hold a live news conference just as US state governors and mayors did later in the week when it came to Superstorm Sandy)
So in that hour of silence from the BC government, one question that has to be raised is: Were the tsunami warnings so completely uncoordinated–at least as far as the public is concerned– that that was one cause of the misinformation and inaccurate information on Twitter and Facebook? Or did confusing information from authorities simply compound and amplify the social media misinformation that was already spreading across British Columbia and around the world?
Here in the northwest, the two area fire chiefs Trent Bossence of Kitimat and John Klie of Terrace have said after the quake that landline phones and some cell phones were out, in some areas up to an hour after the first shock. Klie told CFTK's Tyler Noble on Open Connection that after the landline phones came back up the Terrace fire department was flooded with calls from people "who wanted it now." The ability of firefighters to get information was then delayed "because so many people were trying to get through."
Kitimat has the advantage of being a small town. Emergency services already had scheduled a volunteer recruiting session last Monday night (October 29) for Emergency Social Services–the folks who run, coordinate and work in reception centres during an emergency–so it was easy to turn that meeting into a earthquake/tsunami warning post mortem. (Imagine that happening in New York?)
The most important issue on Saturday night was the false information on both Facebook and Twitter that the Kildala neighbourhood was being evacuated due to the tsunami warning. Other false information on social media indicated that the giant Bechtel work camp at the Rio Tinto Alcan Kitimat Modernization Project was also being evacuated.
As Kitimat's Emergency Plan Coordinator Bob McLeod told the earthquake post mortem about the information on Facebook and Twitter: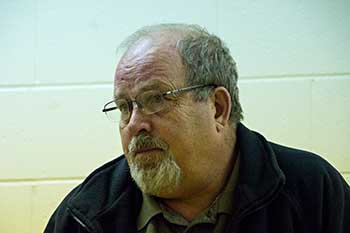 "Your aim is to be saving people, and you're not saving people. There was one case where someone was going around banging on doors in Kildala, telling them to get out. I think it was over when he was in the lockup that night. But this is the type of foolishness that goes on. You have people going on Facebook saying 'Alcan's been evacuated. they're evacuating Kildala.' I am going to be generous and say it is misinformation… It was a blatant lie. And that does not help."
(For those outside Kitimat you can check the town on Google maps) As seen on this screen grab, Kildala is a low lying part of town. The area north of  Highway 37 is higher on a hill. Closer to the ocean at Douglas Channel are the Bechtel/RTA Kitimat Modernization Project work camps.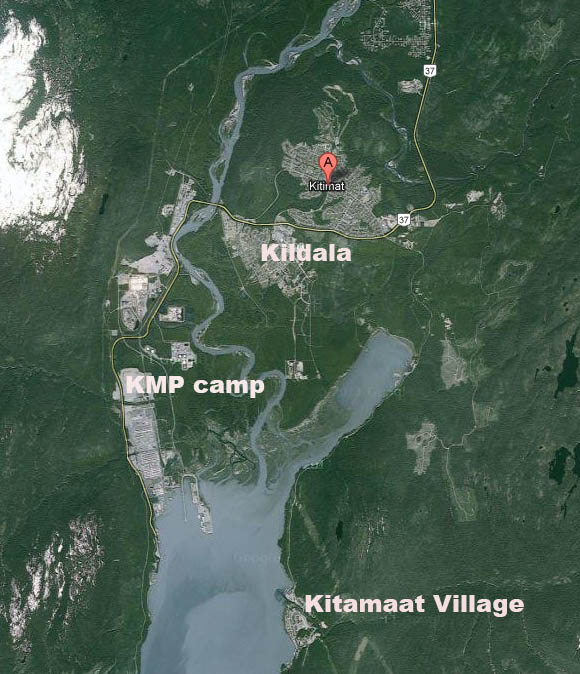 Walter McFarlane of the Kitimat Daily recounted his experiences at the post mortem. (We were both at Haisla dinner at Kitamaat Village when the quake struck. See my earlier story here and McFarlane's Kitimat Daily story here).
After driving from the village to the town, McFarlane told the meeting that he stopped at the town viewpoint where "people were telling me they had already been evacuated out of the Kildala neighbourhood, so my first stop after that was the fire department." The fire hall is about a couple of blocks from the viewpoint, so it was easy to get accurate information from the fire department.
McFarlane continued, "I found the night of the earthquake that no information is just as bad as wrong information. People were calling me on my cell saying why does the Kitimat Daily say we have to evacuate." That is because the Daily republished a warning from the Pacific Tsunami Warning Centre that "said tsunami warning, evacuation for the north coast. People were saying we're on the north coast, we got to go."
I was about fifteen to twenty minutes behind McFarlane in reaching town. (I did not leave Kitamaat Village until after we heard the first tsunami warning.)  As soon as I got to back in cell  range, my cell phone started to beep with saved messages from my TV and radio news clients calling for information. When I got to my home office, my landline was still dead and would be for about another twenty minutes. The only source of information at that point was Google News, Facebook and Twitter.
I saw the initial, and it turns out general, warning from the Pacific Tsunami Warning Center. Soon I was also getting what I hoped was more specific information  on my marine radio from the Canadian Coast Guard Prince Rupert communications station.
But that, too was somewhat confusing. That Coast Guard advisory mentioned various zones, for example, Zone A and Zone B, but there was little specific context and that point I had no idea what Zone A meant. Prince Rupert Coast Guard Radio then went on to say evacuate low lying coastal areas. (transcript below)
With that confusion, and mindful of "when in doubt, leave it out," I did not mention the zone system in any information I posted on Facebook and Twitter that night. I only retweeted official information or tweets from reporters I knew and trusted (and I did not see any tweeted official information from the province with a link to the page that identifies the official tsunami zones)
From the interview on CFTK, it appears that both the Kitimat and Terrace fire departments were also getting inadequate information.
"We went to our normal place to look EM BC (Emergency Management BC) and there was nothing there,so we went to Plan B to get information and went on from there," Bossence told Tyler Noble.
Klie said: "We struggle with that every disaster big or small. Social media, I think emergency organizations are trying to tap into more and more. Up north we may be a little behind the eight ball but sure enough Twitter and Facebook information is out there instantly. Looking at Facebook with my son, I saw that they were evacuating whole cities and I knew that was not true. Because of my experience I can filter some of the information, but there is so much information out there that it's hard to filter what's real and not real. It's an area where emergency coordinators have to get into because its the fastest way of getting information out."
"Once the phone system came back online at the Fire Hall we got a flood of phone calls," Bossence told CFTK, "it was nonstop and it was people wanting to know. 'What's going on? What are we going to do? Are we leaving?' and they're giving us 'This is what is what I'm reading, this is what I'm being texted, on Facebook they're saying we're supposed to evacuate' adding to that we had an individual going around claiming he was a fire department, he was going door to door and telling people to evacuate. That was the added issue we had to deal with. It was definitely misinformation and a sense of urgency that was coming out through the social network (and eventually the media) was big problem for us."
In Kitimat, I was told about the man going door to door with inaccurate information and as soon as I confirmed it with reliable official sources, I posted that on both Twitter and Facebook, emphasizing there was, at that time, no evacuation order.
But every situation is different. In contrast, in Superstorm Sandy, another story about men going door to door in Williamsburg, a section of Brooklyn  was not true, as can be seen in an article summing problems with Twitter in New York, where Jared Keller of Bloomberg reported
I experienced this firsthand during Hurricane Sandy. After retweeting a message warning about muggers in Williamsburg dressed as Con Ed workers as an experiment, I received two sceptical responses checking the claim within 15 minutes, both from people who work in the media industry and spend a significant amount of time on Twitter. Within an hour, I received a mass text message from friends of mine who aren't completely plugged into the social Web with the same warning: "I just read a news alert of two separate reports of people posing as coned workers, knocking on people's door and robbing them at gunpoint in Williamsburg. I just want to pass along the info. Stay safe and maybe don't answer your door." Two other friends responded with thanks.
Keller goes on to stay "I know a lot of people, especially on Facebook, who end up believing whatever they see first," says Kate Gardiner, a social media journalist. "It's almost impossible to track something back to its point of origin there."
You can read Keller's complete article How Truth and Lies Spread on Twitter  here.
See also How to Tweet Responsibly During a Breaking-News Event by Garance Franke-Ruta  a senior editor at The Atlantic
With the earthquake and tsunami warning Saturday night, Twitter misinformation spread internationally. The first hashtag I saw was #bcquake, but as the the tsunami warning gained traction (especially after the warning was extended from BC and Alaska to Washington, Oregon and California and then to Hawaii) the more common hashtag #tsunami became prominent. As people outside BC began tweeting, they began using #Canadaquake and soon #prayforcanada also began to trend. Completely inaccurate information spread on #prayforcanada (believed to have originated in Indonesia) that it was Vancouver, not the north coast that had been hit by the 7.7 magnitude earthquake.
Are you in the Zone?
At this point, one question has to be asked. The spread of information, first the well-intended but wrong, second just rumour and third, the deliberately misleading, has been seen in social media not only during the earthquake and tsunami on the West Coast last weekend, and during Superstorm Sandy on the East Coast but all the way back to the 2004 Christmas tsunami in Southeast Asia.
For the west coast in 2012, however, how much of the problem of misinformation on social media during the earthquake and tsunami warning was the fault of confusing information from the authorities? Just how were people going to interpret such general terms as "north coast" and "low lying areas."?
From the BC Provincial Emergency Program you have to ask "What is Zone A?" It turns out by checking a day or so later that the province of British Columbia has created Tsunami Identification Zones.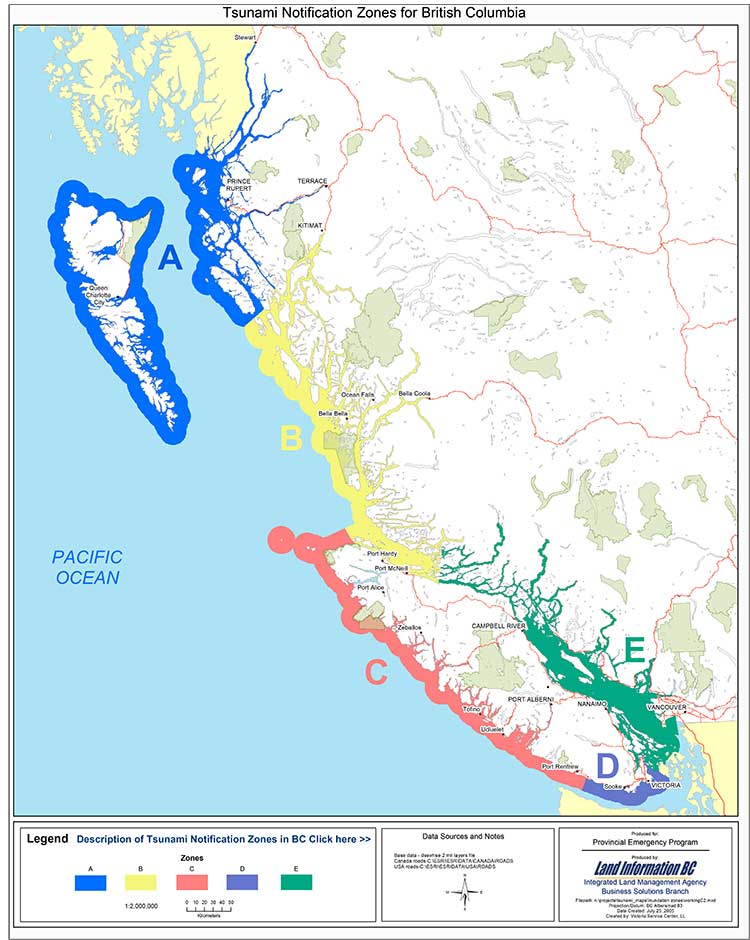 Before October 27, it is likely no one outside of the provincial bureaucracy had ever heard of the provincial tsunami zones. At that time no one in BC, either on Twitter or Facebook or through the media was identifying the BC Tsunami Zones for the public. Later on, the television networks put up maps showing Zones A and B —but that was only good if you had power and were watching the right channel. Kitimat Daily and Terrace Daily posted an official update at 10:42 long after the danger was past explaining the Zone system. It was no good at all if you were listening to news reports on radio or to Prince Rupert Coast Guard Radio on a fishing boat and had no access to the actual maps.
Compounding the confusion is that the US system appears to be very different from the Canadian.
Also the US system has two levels of warning. The Pacific Tsunami Warning Center sends out general warnings but hands over for a more specific warning map from the Alaska -based West Coast and Alaska Pacific Tsunami warning centre. It uses its own system of lettered and numbered zones for the west coast of North America. (See the Oct 27 tsunami advisory here  Note it is a Google maps plugin.)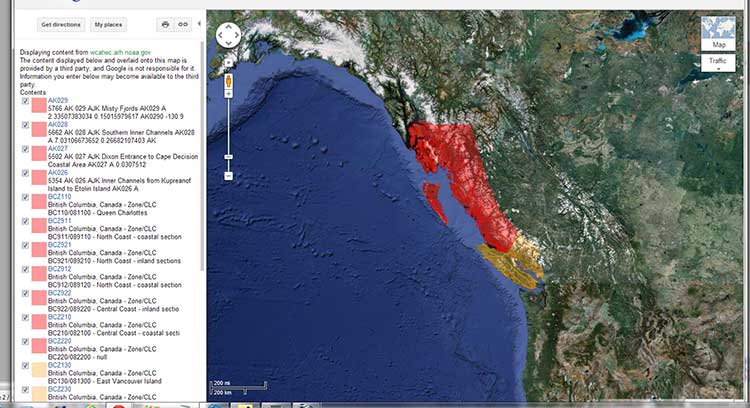 Possibly adding to uncertainty for those who sail the coast of British Columbia, is that usually when the Canadian Coast Guard talks about zones on marine radio, it is talking about the fishing zones as defined by the Department of Fisheries and Oceans, which are numbered not lettered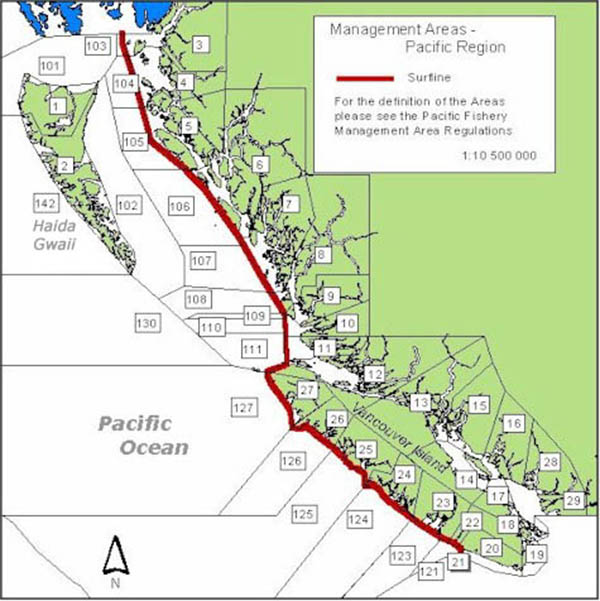 So in case of a tsunami warning, Kitimat is in Zone B for the province of British Columbia and the Provincial Emergency Program and in Zone BZ921 for the West Coast and Alaska Tsunami Warning Centre. For the much more familiar fisheries management areas Kitimat is in Zone 6 (which of course has nothing to do with a tsunami, it's simply the coastal zone system everyone is familiar with)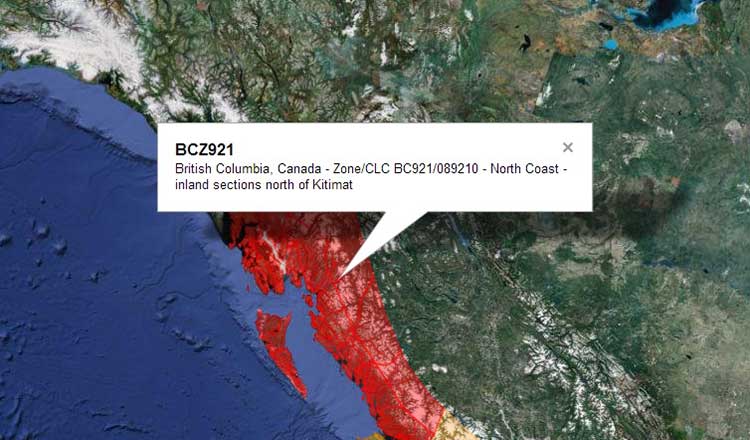 Adding to the confusion is the fact that the EM British Columbia map shows Terrace, far inland up the Skeena River is considered in Zone A, along with Prince Rupert for tsunami warnings (if a tsunami was big enough to reach Terrace along the Skeena River valley, then I can only assume that much of the west coast of North America would have already been wiped out).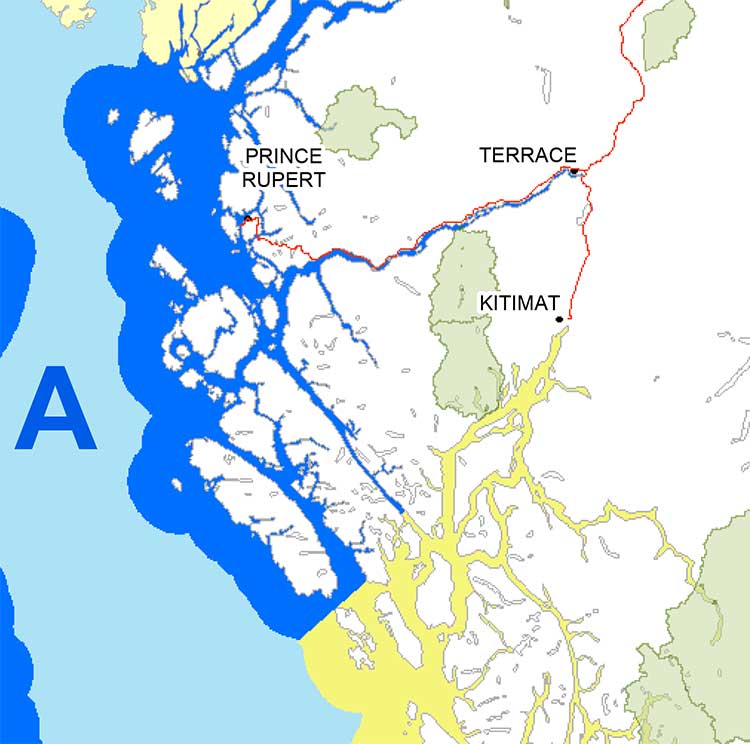 The Monday Post mortem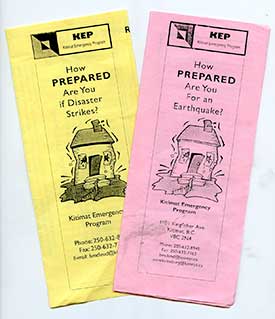 At the Monday, October 29 post mortem, when McLeod outlined the events of October 27, he began by looking back three weeks, saying, "I have feeling of frustration about a couple of things. October 7, I took 4,000 brochures [How Prepared Are you if Disaster Strikes?] down to the post office to mail out to the residents of Kitimat, They were all delivered by the post office. On Sunday, I had people coming to me and saying what are we supposed to do in the case of an earthquake? It is really, really difficult to get people interested."
McLeod said that after he felt the earthquake, he went online to check information and then went up to the fire hall, which is Kitimat's emergency coordination centre. There he met Fire Chief Bossence, his deputy, the RCMP detachment commander Staff Sergeant Steve Corp and representatives from Bechtel and the Rio Tinto Alcan modernization project.
"For the first little while we were going on line trying to get information. The usual method of dissemination getting information it comes from the West coast and Alaska tsunami warning system, then it goes to Victoria, Victoria gives it to the geophysical specialists and they will confirm or deny what ever the information and then it goes to the Provincial Emergency Program and they shoot it out to coastal communities.
"While in this case you're working with what you find out from different sources and you are trying to determine how reliable these sources are."
"In our case, for me the first thing you do when you get word of an impending tidal wave [tsunami] action is check the tide. If you're on a high tide, it's a different situation than a low tide
"The movie version of a tidal wave is this 50 foot mountain of water roaring along and this is not what is going to happen particularly in Douglas Channel because of the depth. So you are going to see a surge such as we saw in Japan and it will be an increasing surge of water.
"We were told that potentially some sort of surge hitting Langara  [the northern most island in Haida Gwaii) at 9:16, 9:16 came and went and there was no notification of a noticeable surge of water. So were down to a non event and we were on a receding tide." (See advisory below)
"Misinformation going out is not helpful," McLeod said. "You've got to set up a stream of how you get information out to people and it's a valid point. The District Website, the Facebook page, something like that can get information out. But again if you lose power where do get it? Text can work even locally with cell phones. if you're in a dead area with a cell phone, you can still get text"
McLeod then asked the audience, mainly people ranging from their thirties to seventies if they text. Only four or five people put up their hands. "You people are going to be saved, the rest of us…" McLeod quipped.
If a conclusion can be drawn from the earthquake and tsunami warning in the Kitimat region on October 27, it's not just that in an emergency inaccurate, incomplete or malicious information can spread a the speed of light on social media, it's worse that incomplete, inadequate and confusing information from the authorities is amplified and distorted by rapid posting on social media. That concept is not new for anyone who has tried the phone chain game where the outcome is often completely different from the start.
If Gardiner is correct when she says "I know a lot of people, especially on Facebook, who end up believing whatever they see first," the BC government delays made everything worse. People Tweeted the first thing they saw and the first thing people saw came from multiple and often conflicting sources.  Add that to those Tweets that were exaggeration, rumour and lies.
The problem in 2012 it is not one person talking to one person talking to one person, it is a Tweet or Facebook posting that go out to thousands, or millions of people and that's a lot more dangerous.
McLeod said the post mortem who said emergency services is trying to get more information out to public, but he added. "The unfortunate part is that if you publish it this week, by Christmas no one will remember. If you start throwing it out every week, it becomes like a stop sign at the end of the street. Nobody sees it."
(Coming next. If Kitimat had to evacuate)
Transcript of Prince Rupert Coast Guard Radio tsunami warning.
Pan pan. Pan pan. This is Prince Rupert Coast Guard Radio, Prince Rupert Coast Guard Radio. Warning for coastal British Columbia issued by Environment Canada on behalf of the British Columbia Provincial Emergency Program at 2057 Pacific Daylight Time Saturday 27 October. Tsunami warning for Zone A, the north coast and Haida Gwaii,Zone B, the central coast and including Bella Coola, Bella Bella and (unintelligible). A tsunami warning has been issued, if you are in a low-lying area coastal area, you are at risk and must move to higher ground or inland now.
Do not return until directed to do so. Closely monitor local radio stations for additional information from local authorities. Please minimize phone use in affected areas, for further information contact the provincial emergency program at website www. papa echo papa period bravo charlie period charlie alpha.Prince Rupert Coast Guard Radio over.
General warning from the Pacific Tsunami Warning Centre
000
WEPA42 PHEB 280341
TIBPAC
TSUNAMI BULLETIN NUMBER 003
PACIFIC TSUNAMI WARNING CENTER/NOAA/NWS
ISSUED AT 0341Z 28 OCT 2012
THIS BULLETIN APPLIES TO AREAS WITHIN AND BORDERING THE PACIFIC
OCEAN AND ADJACENT SEAS…EXCEPT ALASKA…BRITISH COLUMBIA…
WASHINGTON…OREGON AND CALIFORNIA.
… TSUNAMI INFORMATION BULLETIN …
THIS BULLETIN IS FOR INFORMATION ONLY.
THIS BULLETIN IS ISSUED AS ADVICE TO GOVERNMENT AGENCIES. ONLY
NATIONAL AND LOCAL GOVERNMENT AGENCIES HAVE THE AUTHORITY TO MAKE
DECISIONS REGARDING THE OFFICIAL STATE OF ALERT IN THEIR AREA AND
ANY ACTIONS TO BE TAKEN IN RESPONSE.
AN EARTHQUAKE HAS OCCURRED WITH THESE PRELIMINARY PARAMETERS
ORIGIN TIME – 0304Z 28 OCT 2012
COORDINATES – 52.9 NORTH 131.9 WEST
DEPTH – 10 KM
LOCATION – QUEEN CHARLOTTE ISLANDS REGION
MAGNITUDE – 7.7
EVALUATION
NO DESTRUCTIVE WIDESPREAD TSUNAMI THREAT EXISTS BASED ON
HISTORICAL EARTHQUAKE AND TSUNAMI DATA.
HOWEVER – THE WEST COAST/ALASKA TSUNAMI WARNING CENTER HAS
ISSUED A REGIONAL WARNING FOR COASTS LOCATED NEAR THE EARTHQUAKE.
THIS CENTER WILL CONTINUE TO MONITOR THE SITUATION BUT DOES NOT
EXPECT A WIDER THREAT TO OCCUR.
THIS WILL BE THE ONLY BULLETIN ISSUED FOR THIS EVENT UNLESS
ADDITIONAL INFORMATION BECOMES AVAILABLE.
THE WEST COAST/ALASKA TSUNAMI WARNING CENTER WILL ISSUE PRODUCTS
FOR ALASKA…BRITISH COLUMBIA…WASHINGTON…OREGON…CALIFORNIA.
A more specific warning from the West Coast/Alaska Tsunami Warning Centre
WEAK51 PAAQ 280334
TSUAK1
BULLETIN
PUBLIC TSUNAMI MESSAGE NUMBER 2
NWS WEST COAST/ALASKA TSUNAMI WARNING CENTER PALMER AK
834 PM PDT SAT OCT 27 2012
THE MAGNITUDE IS UPDATED TO 7.7. THE WARNING ZONE REMAINS THE
SAME.
…THE TSUNAMI WARNING CONTINUES IN EFFECT FOR THE COASTAL
AREAS OF BRITISH COLUMBIA AND ALASKA FROM THE NORTH TIP OF
VANCOUVER ISLAND BRITISH COLUMBIA TO CAPE DECISION
ALASKA/LOCATED 85 MILES SE OF SITKA/…
…THIS MESSAGE IS INFORMATION ONLY FOR COASTAL AREAS OF
CALIFORNIA – OREGON – WASHINGTON AND BRITISH COLUMBIA FROM
THE CALIFORNIA-MEXICO BORDER TO THE NORTH TIP OF VANCOUVER
ISLAND BRITISH COLUMBIA…
…THIS MESSAGE IS INFORMATION ONLY FOR COASTAL AREAS OF
ALASKA FROM CAPE DECISION ALASKA/LOCATED 85 MILES SE OF
SITKA/ TO ATTU ALASKA…
A TSUNAMI WARNING MEANS… ALL COASTAL RESIDENTS IN THE WARNING
AREA WHO ARE NEAR THE BEACH OR IN LOW-LYING REGIONS SHOULD MOVE
IMMEDIATELY INLAND TO HIGHER GROUND AND AWAY FROM ALL HARBORS AND
INLETS INCLUDING THOSE SHELTERED DIRECTLY FROM THE SEA. THOSE
FEELING THE EARTH SHAKE… SEEING UNUSUAL WAVE ACTION… OR THE
WATER LEVEL RISING OR RECEDING MAY HAVE ONLY A FEW MINUTES BEFORE
THE TSUNAMI ARRIVAL AND SHOULD MOVE IMMEDIATELY. HOMES AND
SMALL BUILDINGS ARE NOT DESIGNED TO WITHSTAND TSUNAMI IMPACTS.
DO NOT STAY IN THESE STRUCTURES.
ALL RESIDENTS WITHIN THE WARNED AREA SHOULD BE ALERT FOR
INSTRUCTIONS BROADCAST FROM THEIR LOCAL CIVIL AUTHORITIES.
EARTHQUAKES OF THIS SIZE ARE KNOWN TO GENERATE TSUNAMIS.
AT 804 PM PACIFIC DAYLIGHT TIME ON OCTOBER 27 AN EARTHQUAKE WITH
PRELIMINARY MAGNITUDE 7.7 OCCURRED 25 MILES/40 KM SOUTH OF
SANDSPIT BRITISH COLUMBIA.
EARTHQUAKES OF THIS SIZE ARE KNOWN TO GENERATE TSUNAMIS.
IF A TSUNAMI HAS BEEN GENERATED THE WAVES WILL FIRST REACH
LANGARA ISLAND BRITISH COLUMBIA AT 916 PM PDT ON OCTOBER 27.
ESTIMATED TSUNAMI ARRIVAL TIMES AND MAPS ALONG WITH SAFETY RULES
AND OTHER INFORMATION CAN BE FOUND ON THE WEB SITE
WCATWC.ARH.NOAA.GOV.
TSUNAMIS CAN BE DANGEROUS WAVES THAT ARE NOT SURVIVABLE. WAVE
HEIGHTS ARE AMPLIFIED BY IRREGULAR SHORELINE AND ARE DIFFICULT TO
FORECAST. TSUNAMIS OFTEN APPEAR AS A STRONG SURGE AND MAY BE
PRECEDED BY A RECEDING WATER LEVEL. MARINERS IN WATER DEEPER
THAN 600 FEET SHOULD NOT BE AFFECTED BY A TSUNAMI. WAVE HEIGHTS
WILL INCREASE RAPIDLY AS WATER SHALLOWS. TSUNAMIS ARE A SERIES OF
OCEAN WAVES WHICH CAN BE DANGEROUS FOR SEVERAL HOURS AFTER THE
INITIAL WAVE ARRIVAL. DO NOT RETURN TO EVACUATED AREAS UNTIL AN
ALL CLEAR IS GIVEN BY LOCAL CIVIL AUTHORITIES.
PACIFIC COASTAL REGIONS OUTSIDE CALIFORNIA/ OREGON/ WASHINGTON/
BRITISH COLUMBIA AND ALASKA SHOULD REFER TO THE PACIFIC TSUNAMI
WARNING CENTER MESSAGES FOR INFORMATION ON THIS EVENT AT
PTWC.WEATHER.GOV.
THIS MESSAGE WILL BE UPDATED IN 30 MINUTES OR SOONER IF
THE SITUATION WARRANTS. THE TSUNAMI MESSAGE WILL REMAIN
IN EFFECT UNTIL FURTHER NOTICE. FOR FURTHER INFORMATION STAY TUNED
TO NOAA WEATHER RADIO… YOUR LOCAL TV OR RADIO STATIONS… OR SEE
THE WEB SITE WCATWC.ARH.NOAA.GOV.
$$
Did the media over react to the earthquake and tsunami warning?

There were also numerous Tweets on October 27, accusing the media of over reacting. The Haida Gwaii quake was 7.7 magnitude. Compare that to the Haiti earthquake on January 12, 2010 which was 7.0. The Christ Church, New Zealand earthquake on February 27, 2011 which caused major damage was 6.3 magnitude. So the Haida Gwaii earthquake was a major event. The tsunami warning that eventually reached as far off as Hawaii had to be taken seriously.
Fortunately Haida Gwaii is sparsely populated and there was minimal damage largely because most of the houses and buildings are wood and can absorb some of the shaking from an earthquake.
Given the tsunami damage in Southeast Asia in 2004 and in Japan in 2011, no media organization could ignore the developing story.
If there is justifiable criticism, it is that some media over hyped the story in the beginning, rather acting to reassure the public in a responsible manner. But the media that over hyped the earthquake and tsunami are the kind that would over hype any story. That is generally the result of management listening to "TV doctors" and media consultants who urge over hyping to increase ratings. (It often works). But those who,  quite early in the event, who tweeted that the media was overreacting, were themselves guilty of overrea
I am going to make a radical suggestion that just might save the dying newspaper industry (for a while).
Fire all your columnists.
Newspapers should do the one thing they used to be good at–original reporting. Anybody can sit down and whip out an opinion piece and post it on the web (as I am doing now).
Fire all the columnists.
Use the money to hire a bunch of eager and smart young reporters from the tech generation. Given the bloated salaries of most ageing, out-of-touch columnists, the newspaper business could probably get three entry-level reporters for every fired columnist.  Instead of a stupid "last hired, first fired" policy, the young reporters could keep the industry on life support for a while longer until one of those young people come up with a solution that saves the industry from itself before it collapses entirely.
(One proviso here. There are a few, too few, writers labelled as columnists who actually go out and do frequent original reporting. I'd keep them and make them get out in the field even more than they do now, because they're actually reporters. There are also innovative reporters/live tweeters/live bloggers like Andrew Carvin @acarvin  (personal website)   in the US and Kady O'Malley  (CBC Inside Politics blog) @kady in Canada. I'd keep them as well. I would not keep tweeters/columnists who just send out their opinions without any actual reporting).
Why fire the columnists?
One. The world wide web is full of opinionated bloggers and tweeters.
In terms of the opinion marketplace, opinion, especially ill-informed opinion, is at the market level of a t-shirt made in China and brought over to North America by the container load, dirt cheap and available in any colour you want. If opinionated columnists helped attract a newspaper audience in the 1980s, today a columnist is a penny a dozen (and we all know what's happening to the penny).
On the other hand, a large segment of the population seems to be eager for real, on-the-scene, informed reporting. But since having columnists sit on their fat asses in offices, never going out, never even making a phone call or moving a mouse to check a fact, are, in budget terms, cheaper than actually sending reporters out in the field, newspapers are firing reporters and promoting columnists. It's the same with political panels on television. The panels cost little, fill up air time and add almost nothing substantive to a news broadcast.
Dumb.
How many of today's audience actually care about columnists? Last fall, I was teaching a continuing education class at a university on social media. There were about 30 students, ranging in age from 20 to 65. I mentioned the CBC and National Post's Rex Murphy, (I know from my days producing The National's website that Rex was quite popular then among the CBC audience). To my shock and surprise, blank stares. No one. No one in that class had ever heard of Rex Murphy, even though he hosts Cross Country Check Up, he once wrote a column for The Globe and Mail and now gives his opinion on CBC's The National and in The National Post. An anomaly perhaps, an indication of the decline of the CBC, perhaps. But those students did talk about how they got news, yes news, from Twitter and Facebook and how links led them to the media that originated the story.
Two. The majority of columnists, left, right or middle, are completely out of touch with reality.
Most columnists today are ageing boomers, or members of Generation Gekko (the spoiled generation between the WWII Greatest Generation and the Boomers) and most haven't had an original thought in at least a decade. Nothing proves that more, here in Canada, than the near unanimous condemnation of the student protests in Quebec by columnists in almost all the major media across this country. One has to wonder if these columnists talk to their kids (if they have kids). They rant about today's generation of students as "spoiled brats."
Compare that blanket condemnation with the intelligent discussions I have seen among several Facebook friends and their followers over the issues in Quebec. Even those who oppose the students stand on tuition fees and are disturbed by the marches disrupting their neighborhoods and businesses are more measured in the Facebook discussions I have seen than what you read in the columns or heard in the television news political panels.
Why read the pontification of a columnists, when you get a wider view of opinions and experiences from a thread on Facebook (where I should note, people use their real names and are known personally to at least some of the people taking part in the discussion)?
None of those columnists, when they were starting out, had to go through four or five unpaid internships to get their first paying job (and unpaid internships are not only standard practice in the media but in almost all industries that also pay their CEOs millions in salaries and bonuses). None of those columnists are burdened with life-long debt for getting a university or college education. The columnists seem to have forgotten the fear we all felt as kids at the prospect of nuclear annihilation over our heads when they dismiss as nonsense, the completely justified fears the current generation of young adults have about the future of a planet facing drastic climate change.
None of those columnists ever seem to bother to read the news wires available on their computers  (or even their reporting colleagues on their own newspaper). If they did, they would know that the discontent among the current student and young adult generation is worldwide. There have been student protests in Chile over high tuition and debt for the past two years. There have been student protests across Europe, even before the debt crisis. Then there's the Arab Spring (conditions may be different but it's the same generation) and yes, the London riots, even the Stanley Cup riot in Vancouver, the G20 disturbances in Toronto. I've seen tweets and Facebook postings that students in the UK are going to adopt the Quebec students' red square symbol in their struggle with the government of David Cameron. If it happens that would show the power of social media and the networking power of the new generation.
To quote the old song from the 60s, which I am sure most of those columnists sang in their day, "something's happening here" but unlike a few reporters, the columnists never bother find out, they just sit at their keyboards and create "sound and fury signifying nothing."
Even in terms of a business model, if you're running a newspapers and you want to attract a younger audience ( the younger audience is a mantra in television, even though the executives don't really mean it) why have your newspaper columns shit (and I meant that) almost every day on your potential next generation of customers? Yes, most newspaper readers are older (but even those are giving up on newspapers) but why ignore a potential market of millions that could save your business? Perhaps because the newspapers executive are cut from the same obsolete cloth as their columnists
To expand on this, since I returned to my old home town of Kitimat, centre of the Enbridge Northern Gateway pipeline controversy, my once high respect for the Ottawa press gallery is in free fall and now near zero. Most of the reporting on this British Columbia pipeline and tanker issue from Ottawa and Toronto, is only 20 per cent accurate, if that. (That is why I founded my own news site, Northwest Coast Energy News). Almost all of the columns on the Northern Gateway issue written east of the Rockies are so inaccurate that they are worthless.
In the old days, when Canadian newspapers actually did reporting from across the country, there would be someone out west to tell the Ottawa or Toronto columnists and their senior editors, hey this column is completely wrong. (There are only three national level reporters in Canada whose reporting can be trusted on the Northern Gateway, Mike De Souza at Postmedia, Jeffrey Jones at Reuters and Nathan Vanderklippe at The Globe and Mail and even they tend to write too much from an energy sector point-of-view. As for the energy columnists, their opinions are worth about as much as molecule of shale fracked natural gas)
The press gallery, especially the columnists, exist in an inside-the-Queensway bubble, listening to politicians, war room strategists, spin doctors and pollsters and have come to believe that is reality. It seems that to the Ottawa press gallery, the only thing that counts is electoral politics. Everything else is, to use the term from economics, a political "externality" and not worth reporting. Discontent across Canada and political turmoil around the world mean nothing, unless it can be factored in to whomever wins the next parliamentary, congressional or presidential election.
Three. Let them blog.
It is interesting that most of the columnists, many of them conservative, many hired in the 1980s, when newspapers decided that they only wanted to chase the well-heeled, upper middle class and upper class market that advertisers craved, worship the free market but are completely insulated from it, especially on newspapers that are loosing money (unlike the young people they scorn who are subject to the marketplace every day.)
So if these columnists are so in favour of the marketplace and if they are fired, as I suggest, then let them put their ideas out in the marketplace as a blog, and see if they can actually earn a decent living at it. Most won't of course, but there are a few who do, like Andrew Sullivan. More power to those who do succeed, and perhaps a lesson for those who fail and who are currently condemning today's students and young journalists for their struggles.
Four. The paywall issue.
Newspapers are rushing to create paywalls. Some reporters say paywalls are needed to produce good journalism.
Wrong. We're getting into a chicken and egg argument here. Paywalls aren't going to work and not because the internet has worked on free information since 1993. Paywalls won't work for the simple reason that 80 per cent of newspapers today are not producing anything worth paying for whether it's online or mobile; they're not producing anything even worth paying for and picking up the dead tree printed edition. Many newspapers have already fired most of their reporters and photographers or those reporters and photographers have got fed up and quit or taken early or full retirement. Now the newspapers are going to put up a paywall, with even fewer staff doing the reporting and expect that public to pay for that diminished product?
Dumb.
With wire service reports available for free on sites that don't have paywalls, why then fill up your news site or newspaper with wire reports that people can get elsewhere for nothing and then expect them to pay for it? As well as the wire services there are now the citizen newspapers, from paper.li. I subscribe to a half dozen daily feeds as a sort of wire service for Northwest Coast Energy News and often those compilations give me three or four sources on a new story, so if a story is behind a paywall, there are always alternatives. As well as my own original content, I use Storify to keep my readers up-to-date with issues I can't cover myself. (Example here)
Dumb.
One has to ask "what are they thinking" in the media's ego-driven, consultant-plagued corporate board rooms? (Consultant-plagued because all the media companies are repeating the same failed strategies over and over instead of trying something innovative). Why would anyone under the age of 35, in these days of austerity, whip out their credit card and pay to be told by a columnist who hasn't picked up a phone to check a fact since they were first appointed around 1990 that these readers/viewers are spoiled brats and that their worries about the future are of no consequence.
Dumb.
As I said above, with so much opinion available for free on the web, why pay for the rants of the 95 per cent of columnists whose writing isn't worth it and only serves to raise your blood pressure (no matter where you are on the political spectrum).
Hire the kids, lots of them
On the other hand for the same current limited budgets, if newspapers got rid of the columnists and hired a whole generation of new, young reporters, with guidance from some open minded senior editors (and checked by good copy editors—you really need to bring copy editors back, firing copy editors is another media corporate stupidity), that would bring "new blood" to use the cliche to the news web sites and news pages. We would see original reporting on issues that everyone, not just the younger generation, care about. A century ago, reporters started in the business right out of high school around 16 to 18 and the newspapers, of the day used their energy to create audience and profits. Even with today's demand for higher education, a 25-year-old reporter has the energy and eagerness to shake things up. It is possible, perhaps, that they then could produce stories that would be worth paying for, whether by attracting advertisers or even making a news site so good that people might actually penetrate the paywall with their credit cards.
Dunsel
To use a term from one of my generation's favourite TV shows, Star Trek, The Original Series, in 2012, a columnist on a newspaper is a Dunsel. (Dunsel is a term used by midshipmen in the 23rd century to describe a part which serves no useful purpose. From Memory Alpha, the Star Trek wiki. )
Getting rid of columnists is just an idea, one of many as the news media, an essential part of any free and democratic society, struggles to to survive and find a way to pay to produce its product.  There are many blogs and reports out there on the issue of media survival, too many to  link to. My idea of getting rid of columnists would just be one stopgap measure.
Unfortunately most media executives these days are also Dunsels, earning huge salaries, running around believing it's still 1985 and rejecting any new ideas from no matter what source (except expensive reports from their consultants) and thus serving no useful purpose, so it is likely that the newspapers' downward spiral will continue until nothing is left.
Related See Jeff Fraser's piece If they build it, will they pay? on the Canadian Journalism Project site where he says the New York Times paywall is working, because the Times is emphasizing quality original reporting and most paywalled papers are not emphasizing quality reporting.